C.O.L.T. — Code Orchestra Livecoding Tool
COLT is a small program to test and build mobile, web and desktop-based applications in real time.
Developers call this "livecoding" or "live development".
Connect COLT to any editor, keep calm and code on!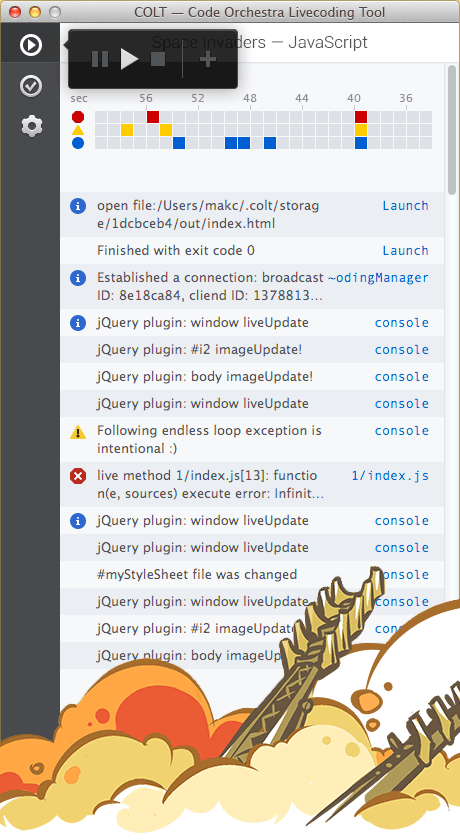 COLT is a front-end development tool which allows writing code live-style. Just as you modify the code and save, the alterations are delivered to the working application using a special protocol. What's important, all the variables, scroll position, form typed date, etc would be preserved. HTML/CSS would be modified seamlessly without page reload. Out livecoding implementation is preprocessing-based which means that the live code would work anywhere — on any device: desktop, mobile, TVs, etc; and on any browser. COLT can work with CoffeScript, TypeScript, LESS/SASS. It can work anywhere the web-technologies are applied, e.g., JavaFX and PhoneGap. It works with any IDE.
Feature

(red - COLT key feature)

Brackets/
Adobe Edge
LiveReload
Webstorm
(Live Edit)
Adobe
Inspect
COLT
Live Refresh (Live Reload)
●
●
●
●
●
Hot JavaScript reload
●
●
●
JavaScript Livecoding (no variables lost)
●
Safe Coding (recursions and loops check)
●
HTML/CSS Update without page reload
●
●
●
Less/SASS/CoffeScript
●
●
●
TypeScript Livecoding
●
Chrome
●
●
●
●
●
Firefox/Internet Explorer/Safari/Opera (all browsers)
●
●
Works with any IDE
●
●
●
No need for Browser Extension
●
●
iOS/Android
●
●
●
TV Browsers
●
Shared Access (teamwork service)
●
Full Static Website Emulation (SSI, absolute URLs)
●
Price
Free
$10
$49
Free
$6.95/mo